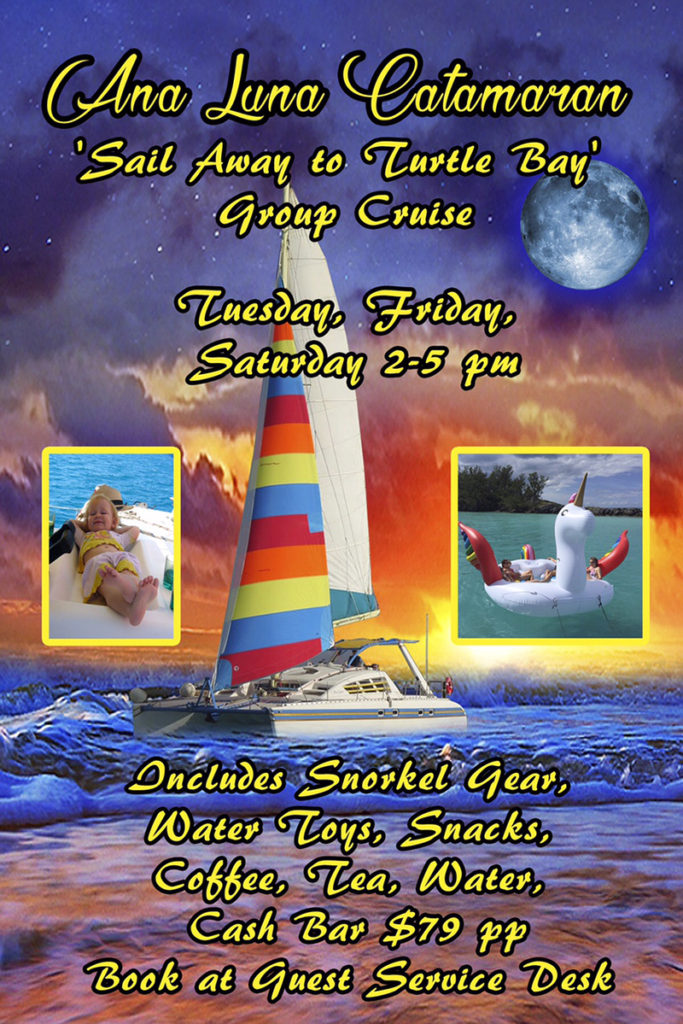 Sail Away to Turtle Bay is fun for the whole family. Everyone has lots of options from serious snorkeling to cannon ball jumps off the stern to maxi water toys and selfies!
Turtles do abound in many coves and show themselves in the warmer months, they are shy but approachable and harmless. Many fish species and creatures are there to discover as well.
So, welcome aboard and away we go, to 'Turtle Bay'! Fun for all ages and abilities.
Snorkeling is such a natural in Bermuda, over the years we figure over 5,000 guests have snorkeled with us. Ana Luna features snorkeling on many of its outings including weekly outings from Grotto Bay.
Instruction and Guided Snorkeling take center stage on these outing with the goal of improving the guests experience both by offering snorkeling tips along with pointing out fish and creatures.
Snorkeling gear is provided but guests are encouraged to bring their own if available.
Noodle floatations aids are also available. As part of our instruction we seek to wean guests from floatations aids as they become more comfortable in Bermuda's buoyant seas. We recommend wearing an old tshirt against the summer sun and abrasion. Children under ten must have specific parent buddie and bring their own gear.
Ana Luna snorkeling fins go down to size XSS.
Drinking is not permitted before snorkeling.
Please bring your own towels & sunscreen.
Ana Luna does provide fresh water and Hibiscus tea, light snack.
Liability disclaimer: When you are in the water you are doing so independently and are confident in your abilities and equipment in the specific water experience. Ana Luna does all it can to make your swimming and snorkeling experience safe and enjoyable.
Snorkelers abilities, reactions, physical condition, etc are far from the captain or crews ability to control and for this reason all guests who enter the water do so at their own risk and specially acknowledge this waiver of liability on the part of Ana Luna.