Ana Luna
Catamaran
Specifications
Sailing from Bermuda, the Ana Luna is a 45 foot French built catamaran. It is one of only 13 Wauquiez Kronos catamarans ever constructed. Launched in 1995, she was constructed for the high end French market, and cost roughly double cats of the same size.
Teak decks throughout compliment the exceptional teak woodwork and joinery found throughout the salon, and four cabins with complete ensuite bathrooms.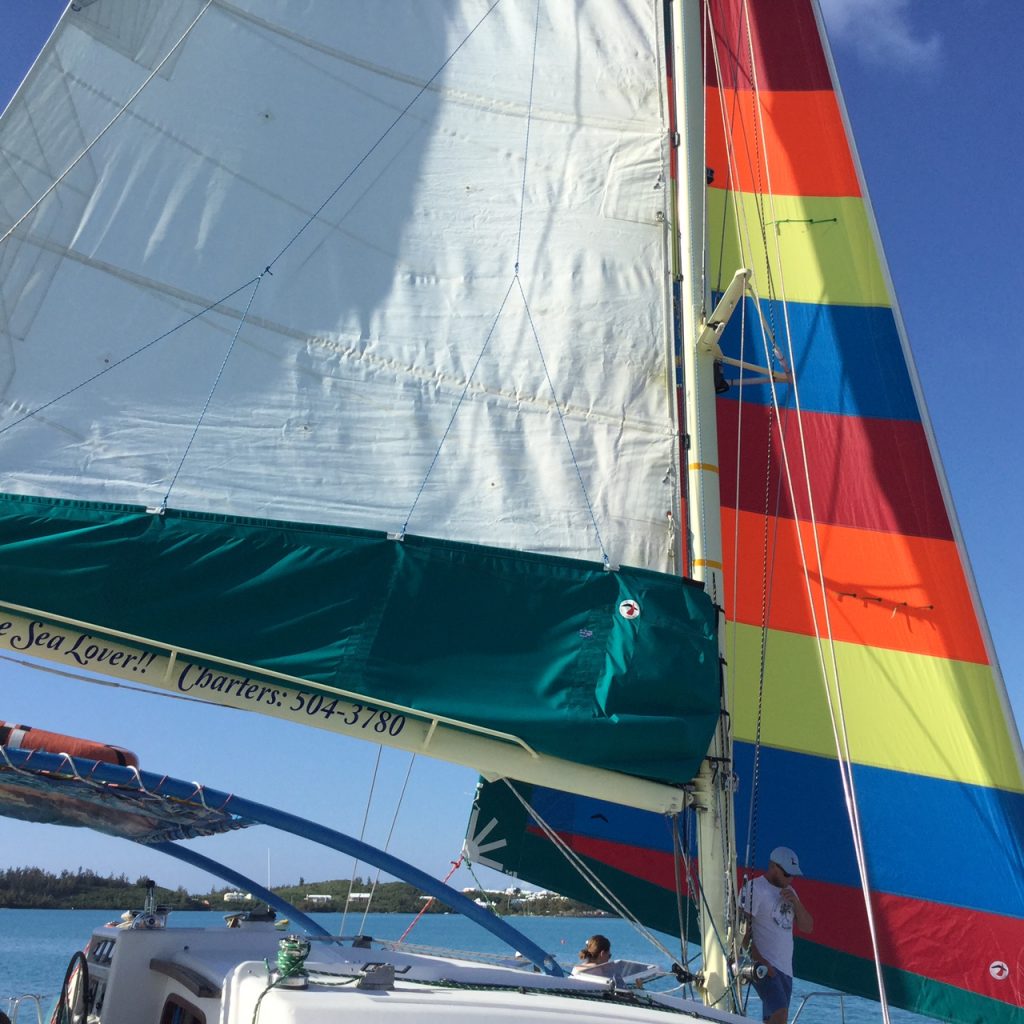 Guests often remark on how easy she is to sail with sloop-rigging and a safe efficient deck plan. Her dedicated preventer line makes accidental jibing impossible and planned jibes much easier. This is a unique feature not found on any other catamarans that we know of.

The helmsman sits on a couch for three in the yachts center providing clear vision all around.
The bimini covered cockpit is very popular for relaxation.
Relaxation areas abound. The two large trampolines forward are always popular for tanning. The oversized pulpits at the bows make this area safe and provide good seating while at anchor and underway.


Ana Luna's rigging is beefy and impressive. Her blocks and physical size of mast and boom, along with overbuilt diamond rig, all added to initial cost of this yacht.

They are hugely welcome however when the winds are blowing and seas are high.
Oriental rugs, hand loomed decor, rattan place mats, and Balinese wood carvings abound throughout the salon and cabins.



Ana Luna's Specifications:


Type: Wauquiez 45′ built 1995 in France





Liscenced capacity: 40 guests plus crew



Cabins: 4 cabins, each with ensuite bathrooms

Length 45′, Beam 22'6″,  Mast Height overdeck 68′
Draft 4′, Tonnage 18.47, Miles logged 35,000+

Sailing charter season:
May 1st – October 31st



Services offered: Group and Private Charters, Live Aboards overnight stays, Snorkeling and Scuba Dive, Cooked & Catered Meals, Wine & Beer bar.