Hostess Neitra Dill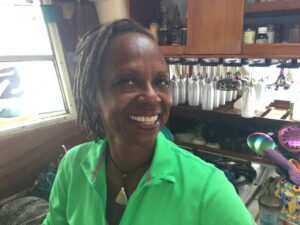 Neitra self describes is a 'petite powerhouse' , full of fun, laughs & smiles!
Who could ask for more from the Ana Luna queen of hospitality..
Extensive travel in Europe, study in Ecuador, travel in Latin America brings Neitra a cultural richness seldom found in Bermudas isles.
Twenty years wearing many hats in the hospitality and tourism including about every position at Grotto Bay Beach Resort, currently night auditor and manager; has embellished Neitra with a permanent smile and personality of a bubble bath!
Ana Luna Catamaran is blessed to have Neitra aboard; guests are amazed with her energy and positive personality, she cleans like a machine and makes snacks at the same time she serves them. Magical!
Captain Terry Mahoney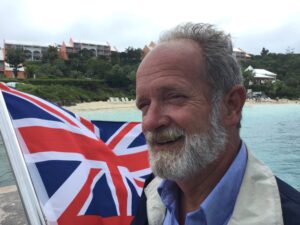 Captain Terry 'Ana Luna's renaissance man' !
Terry is a very seasoned sailor and captain, he operated his own charter company in Bermuda for many years and has been a Bermuda Licensed Marine Pilot since 1979.
Extensive delivery's of a variety of sailing yachts to all parts of the new and old world have embellished Terry with enough stories and sea tales to fill a large bucket!
Guests needs are first in Terry's priorities, he always means to please; be it with a helping hand, smile, rum swizzle or tall (true) tale.
Terry's wealth of experience and knowledge is welcome on any boat or crew. He, along with Neitra make the Ana Luna crew one of the best hospitality teams in the Bermuda isles. Add his sailing resume and you have an all star!
And he can cook! Just read our reviews on Airbnb from Liveaboard guests..
Ana Luna Catamaran crew team, Sailing the Sea Lover !